Google have released a new metric to your Google Display Network (GDN) campaigns that'll help you evaluate the effectiveness of your display ads.
They call it Relative CTR and here's the summary straight from AdWords.

"Relative CTR is a measure of how your ads are performing on the Display Network compared to other advertisers' ads that are appearing on the same websites. The value in this column is obtained by dividing your CTR by the average CTR of all advertisers on the placements where your ads are shown.
Relative CTR can help you understand campaign and ad group performance if you have little or no conversion information."
Setting it to show:
You'll find it in the columns section under 'competitive metrics'.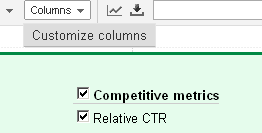 And it'll look something like this:


What do I do now?
Go take a look at the official Google documentation on relative CTR, making sure you expand the tabs near the bottom of the article. Then have a look at your campaigns and see what needs attention. If its got a relative CTR of less than 1, then it may be time to experiment with AdWords Campaign Experiments (ACE).
Thank you for reading
Nathan