Bidding on both Broad and exact match keywords of the same product can be a bit of a problem with the broad keywords overlapping the long tail keywords.
The situation
You have widgets broad match at £5 max CPC. You run a search query report and notice that [blue widgets] has less competition and performs well. You decide that it should be split out into a new adgroup.
You then split it out into its own adgroup, with a few variants. And because there's less competition, the actual CPC was £2, so you've set the new adgroup bid to £3, thinking you'll increase your position and hopefuly get you more conversions.
You wait a few days, and the new adgroup hasn't performed! You run an ad diagnosis on [blue widgets] and notice that widgets is showing for the search. Historical performance and a high bid means that it has won nearly every ad auction!
The solution – Add in negatives
Add blue as a negative keyword in your initial adgroup. This'll stop widgets from appearing in your new blue adgroup.
Feel like your missing out?
If you think that a pure exact match only adgroup isn't giving you the keyword reach you desire, it's time to start using Google's Broad match modifier.
All you have to do, is add +blue +widgets into your adgroup. It's in between phrase and broad match, but the terms can be in any order, and the actual queries have to be very close to what you've stated.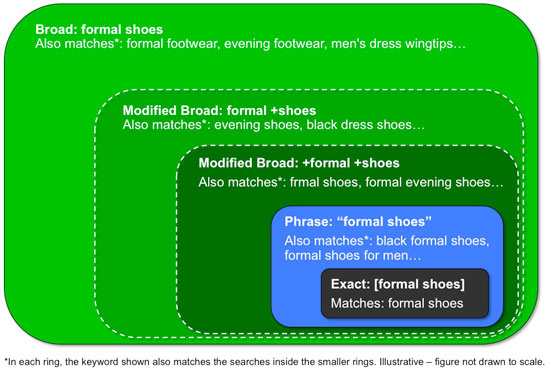 If you find this post useful, or you have related comments, please leave a comment 🙂